Turn back the clock with Botox. An injectable that works beneath the surface and temporarily relaxes the underlying muscle activity that causes moderate to severe frown lines, crow's feet, and forehead lines in adults – to help them look visibly smoother.
Botox is used to treat dynamic wrinkles or wrinkles that form from repeated facial expressions like frowning, squinting, and furrowing of the eyebrows. This product is a neurotoxin that is injected into the facial muscles to temporarily relax them, softening the overlying wrinkles. Botox treats crow's feet, forehead furrows, and frown lines. Botox can also improve the appearance of the neck by relaxing the midline superficial muscles which can give an aged appearance. The results from Botox treatment typically last three to four months.
Years of laughing, smiling and frowning can result in noticeable creases. This, paired with facial volume loss that occurs as part of the natural aging process, can create a tired and older-looking appearance. Botox can erase years of aging and give you a refreshed and youthful appearance. SILK offers the industry standard in Botox, with painless, safe, and effective Botox injections that are proven to treat an array of facial aging signs. Our medical spa nurses are expertly trained and skilled in administering Botox to create natural-looking results. Whether you desire a subtle or more dramatic enhancement, we can help you look as young as you feel.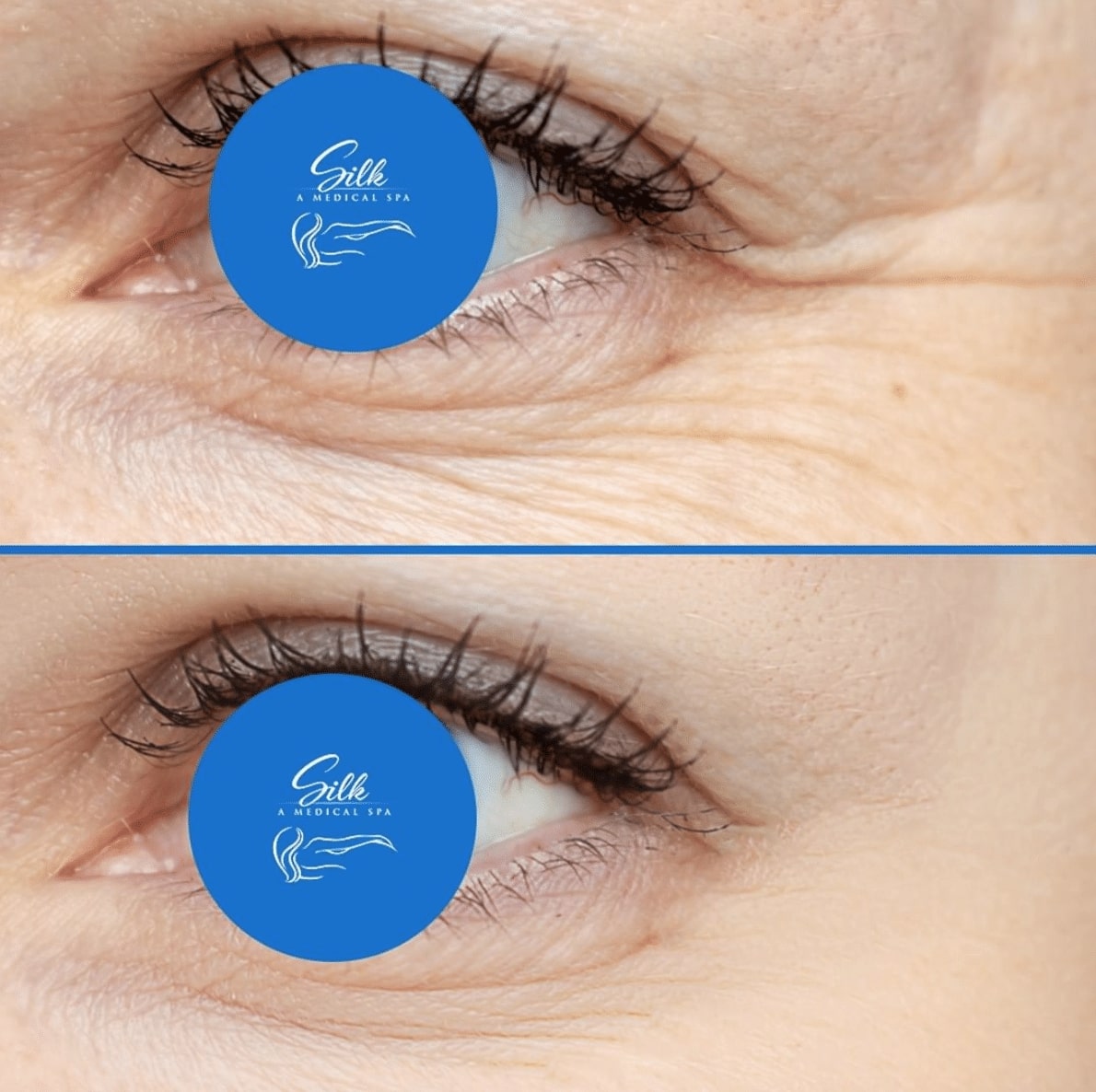 Frequently Asked Questions
Are botox Injections Safe?
BOTOX is approved by the FDA and has been in use for more than 20 years. Nearly 4 million Americans get BOTOX injections each year.
Is Botox Permanent?
Botox can last up to 3 to 4 months.
Are The Results Of Botox Immediate?
Muscles will gradually begin to relax with full effects visible in 10 to 14 days.
Can Botox Treat Crow's Feet?
Yes, BOTOX is effective for treating Crow's Feet and a single treatment lasts three to four months.
Do Botox Injections Hurt?
There is very little discomfort during the actual treatment session and minimal swelling and bruising after.
Is There Recovery Time Post-treatment?
There is little downtime with Botox injections, which means you can return to work or your normal activities immediately after treatment. Some redness in the treatment area is normal and should subside a few days after treatment.
How Do I Best Maintain My Results?
Botox results are temporary and repeated sessions are needed to maintain your younger-looking appearance. You along with our knowledgeable medical spa team will decide the timing of your repeat treatments. Some patients choose to undergo another session as soon as they see wrinkles and lines reappear, while others wait until the effects of the first session have completely worn off. Our team can offer our recommendations for prolonging your rejuvenating results after your in-office consultation and evaluation.
Should I Do Anything to Prepare for the Treatment?
Before you come in for your first BOTOX treatment, it is important to review some important information and take some steps to prepare for your treatment.
To receive BOTOX, you cannot be pregnant or breastfeeding and must not be allergic to egg or egg products. Before we schedule your BOTOX procedure, we will go over your medical history and potential allergies to ensure that you are a good candidate for BOTOX.
For at least one full week before your treatment session, we recommend you stop drinking alcohol or taking any kind of anti-inflammatory drugs—including aspirin, ibuprofen, Motrin, Advil, and vitamin E—to avoid potential side effects from your treatment and help speed up your recovery time.
During your consultation, we will go over all of this information with you and give you personalized instructions so you know exactly how to prepare for your treatment and what to expect on the day of your appointment.
Are There Side Effects to BOTOX?
You may experience some temporary bruising or swelling around the injection site following your procedure. However, these are common side effects that quickly dissipate in the days following your procedure.
To help improve the recovery process, we recommend not lying down for two to four hours following your treatment and avoiding any strenuous physical activity. You can also use an ice pack or a cold compress to help soothe your skin and alleviate any discomfort around your injection site.
What Is the Difference Between BOTOX and Other Neuromodulators Like Dysport and Xeomin?
BOTOX, Dysport, and Xeomin are neuromodulators derived from the same basic ingredient, botulinum toxin type A, but they are each created using slightly different processes.
BOTOX, the most well-known and commonly used type of neuromodulator, offers small, concentrated doses known for delivering precise, localized injections.
Dysport is formulated with additional inhibitors, useful in treating larger areas and delivering faster results.
Can Men Have BOTOX?
Yes! Both men and women of all ages can benefit from BOTOX, and recent numbers have shown that men's interest in BOTOX has been steadily increasing over the last five years. Men, just like women, experience a loss in skin laxity and facial volume that can make them look older than they are and cause their wrinkles to appear deeper.
BOTOX can treat dynamic wrinkles that appear after years of smiling, frowning, laughing, and squinting, including crow's feet, forehead wrinkles, and smile lines.
Because BOTOX injections are so precise, your treatment can target certain areas of your face while leaving the rest undisturbed, giving you subtle, natural-looking results. Best of all, BOTOX is not a permanent solution, so you can start small and gradually decide how much BOTOX is right for you.
Reverse & prevent the signs of ageing?